PRODUCT CATEGORIES
CONTACT US
DANBACH ROBOT JIANGXI.INC.
Phone:
+86-18602162995
Tel:
+86-0791-88133135
Fax:
+86-0791-88221576
E-mail:
info@dbhrobot.com
Address:
No.811,Chuangxin 3rd road,High-tech district,Nanchang city,Jiangxi province,China
Trailed the AGV
DANBACH ROBOT
---
Introduction of traction type AGV car
Can be tractor in the trailer AGV trolley trailer, a traction can be more than one material vehicles, while the body can be placed on the tray, racks, boxes and other goods for handling, guided by the AGV guide through the identification of landmark selection destination .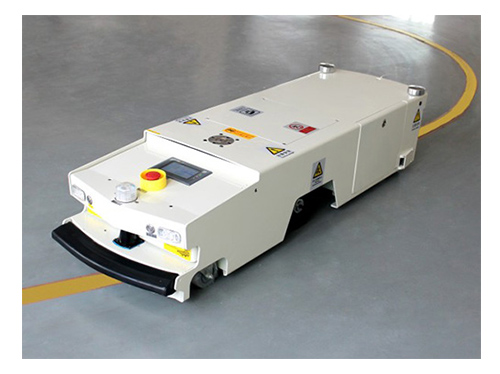 Traction AGV car advantage
1, big man-machine interface, handling more simple.
2, large battery, durable life.
3, full power, human custom load capacity.
4, intelligent traffic management, automatic avoidance, multi-level warning, emergency braking, so that the car is more safe and reliable operation.
5, unmanned transport, greatly reduce labor and operating costs.
Traction AGV trolley parameters
| | |
| --- | --- |
| Body models | Traction AGV |
| physical dimension | L850 * W350 * H350 (mm) |
| control method | PLC / AGV motion control chip (optional) |
| Navigation mode | Magnetic Strip Guidance / Photoelectric Guidance / Laser Guidance (optional) |
| Walking direction | Move forward, turn left and right, bifurcation |
| Communication function | Wireless LAN (optional) |
| Drive mode | Differential drive |
| Drive power supply | DC24V, DC48V |
| Drive the lift mode | Manual lift / electric lift |
| Load capacity | 100,300,500,1000 KG (can be customized) |
| Travel speed | 30-45m / min Speed ​​(or custom) |
| Turning radius | The minimum can be up to 500mm (route laying radius) |
| Navigation accuracy | ± 10 mm |
| Way of working | 24 hours |
| Gradeability | 3-5 degrees |
| Stop Accuracy | ± 10 mm |
| Charging method | Manual charging (optional automatic charging) |
| Battery | Maintenance-free rechargeable batteries, the number of continuous discharge> 300 times |
| Safety sensing range | ≤ 3m, adjustable, emergency braking distance of less than 20mm |
| Human - computer interaction | Using touch-screen human-computer interaction, you can easily set the parameters, set the site and alarm. |
| Use of the environment | Indoor temperature: 0 ~ 40 degrees, relative humidity: 40% to 80% |
| Security | Side obstacle detection sensor + mechanical anti-collision mechanism double protection |
| Design life | > 10 years |
Previous:
Reversible drum AGV car
next:
Backpack the AGV
you may also like / More Like