PRODUCT CATEGORIES
CONTACT US
DANBACH ROBOT JIANGXI.INC.
Phone:
+86-18602162995
Tel:
+86-0791-88133135
Fax:
+86-0791-88221576
E-mail:
info@dbhrobot.com
Address:
No.811,Chuangxin 3rd road,High-tech district,Nanchang city,Jiangxi province,China
Laser-guided forklift the AGV
DANBACH ROBOT
---
Introduction to Laser Navigation Forklift AGV
IKV laser guided forklift AGV is currently used in some automotive industries, a large warehouse logistics, some large paper mills, three-dimensional warehouse, to achieve rapid deployment of logistics and transportation automation applications, thereby saving labor costs and improve production efficiency.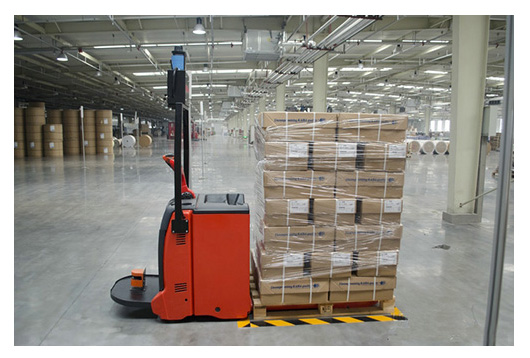 Advantages of Laser Navigation AGV
Laser navigation AGV positioning accuracy, the ground without other positioning facilities; driving path can be flexible and can be suitable for a variety of on-site environment, can be modified at any time by software driving route, no magnetic stripe and landmark maintenance more convenient, it is the preferred foreign Advanced guided mode. The equipment bear empty pallets, with a tray, paper and other handling work.
Laser navigation AGV can solve the following problems
1, the need for stacking, loading and unloading materials;
2, the need for frequent replacement of navigation lines;
3, the harsh working environment, strong magnetic field, positioning accuracy requirements;
Laser guided forklift AGV parameters
| | |
| --- | --- |
| product name |   Laser guided forklift AGV |
|   Product number |   CCJPT10V1 |
|   product code |   8692000000000  |
|   Product Size |   L2200 * W802 * H710 (mm) (can be customized) |
|   Guidance |   Laser guidance |
|   Walking direction |   Forward and backward, left and right turn, bifurcation |
|   wireless network |   WiFi network · RF network |
|   Drive mode |   Steering wheel control |
|   Drive power supply |   DC24V |
|   Carrying capacity |   1000kg (can be customized) |
|   Body models |   Forklift type |
|   Walking speed |   35 m / min |
|   Turning radius |   1705-2075mm (according to the shape of the forklift) |
|   Gradeability |   5-7 degrees |
|   Navigation accuracy |   ± 10 mm |
|   Stop Accuracy |   ± 10 mm |
|   Way of working |   24 hours |
|   Charging method |   Manual charging · Automatic charging |
|   Safety sensing range |   ≤1m, adjustable, the emergency braking distance is less than 20mm (adjustable) |
|   Alarm form |   Audible alarm |
|   Battery |   Lead-acid battery · Lithium battery |
|   Security |   Front obstacle detection sensor + mechanical anti-collision mechanism double protection + emergency stop button |
|   Design life |   > 10 years |
Previous:none
next:
Inertial navigation the AGV
you may also like / More Like