PRODUCT CATEGORIES
CONTACT US
DANBACH ROBOT JIANGXI.INC.
Phone:
+86-18602162995
Tel:
+86-0791-88133135
Fax:
+86-0791-88221576
E-mail:
info@dbhrobot.com
Address:
No.811,Chuangxin 3rd road,High-tech district,Nanchang city,Jiangxi province,China
Backpack the AGV
DANBACH ROBOT
---
Carry AGV introduction
Carrying AGV car is placed in the AGV body tray, rack, box and other cargo handling, through the magnetic strip guide can point to multi-point material transport. Can be selected by the call system automatically transferred to the site. Backpack AGV for transport frequent, long material supply cycle production system.
Carrying AGV photo show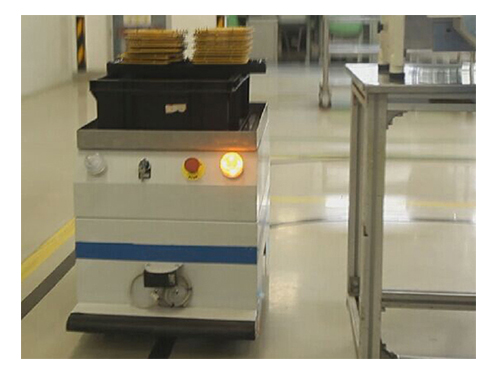 Carrying AGV characteristics
1, single, double, all the way to run, small size, flexible handling.
2, AGV car AGV unmanned vans can be used in conjunction with the assembly line, instead of assembly line, the formation of flexible production system.
3, AGV car body placed on the tray, racks, boxes and other cargo handling, or AGV tail trailer material truck.
4, carrying AGV car handling speed and stability, so that parts can be quickly and accurately run.
Carry AGV parameters
| | |
| --- | --- |
| product name | One - way backpack AGV |
|   Product number | BF1400V1 |
| product code | 8682001200000 |
|   Product Size |   L1400 * W600 * H350 (mm) |
|   Guidance | Magnetic stripe guidance |
| Walking direction | Can be customized routes, multi-site docking function, forward travel, turn left and right, bifurcation |
| wireless network | WiFi network · RF network |
|   Drive mode | Differential drive |
| Drive power supply | DC24V |
| Carrying capacity | 300 kg · 1000 kg · 750 kg · 1000 kg |
| Body models |   Bear type |
| Walking speed |   0-45 m / min |
| Turning radius | Minimum of 300mm (tape path laying radius) |
| Navigation accuracy | ± 10 mm |
| Way of working | 24 hours |
| Gradeability | 3-5 degrees |
| Stop Accuracy | ± 10 mm |
| Charging method | Manual charging · Automatic charging |
| Safety sensing range | ≤1m, adjustable, the emergency braking distance is less than 20mm (adjustable) |
| Alarm form | Audible alarm |
| Battery | Lead-acid battery · Lithium battery |
| Security | Front obstacle detection sensor + mechanical anti-collision mechanism double protection + emergency stop button |
| Design life | > 10 years |
Previous:
Trailed the AGV
next:
Bidirectional lurking AGV car
you may also like / More Like