PRODUCT CATEGORIES
CONTACT US
DANBACH ROBOT JIANGXI.INC.
Phone:
+86-18602162995
Tel:
+86-0791-88133135
Fax:
+86-0791-88221576
E-mail:
info@dbhrobot.com
Address:
No.811,Chuangxin 3rd road,High-tech district,Nanchang city,Jiangxi province,China
Reversible drum AGV car
DANBACH ROBOT
---
Introduction of AGV of double - direction drum
Two-way roller AGV car used in the production line of raw materials distribution and semi-finished products, the transport of finished products; in industrial production can replace some monotonous, frequent and repeated long-term operation or dangerous, harsh environments; As a movable assembly station, the processing station is used. They can operate independently and independently, and can be assembled in an accurate and orderly manner, so as to form a production line with no physical cut-off but dynamic adjustment function and high flexibility.
Two - way roller AGV scene display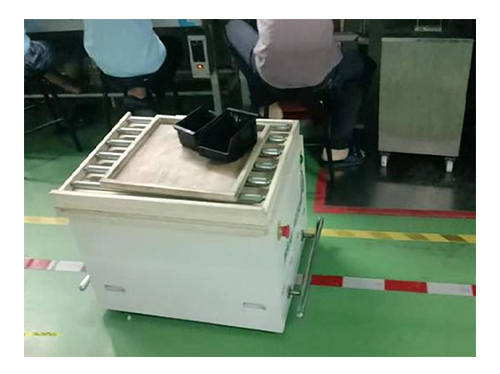 Advantages of Bidirectional Drum AGV
Two-way drum AGV research and development of the original intention: to enhance the level of factory logistics automation, make work easy and pleasant. To solve the problem for customers: 1, in the long-distance transport process to reduce the conveyor belt equipment; 2, can not use the forklift of the operation of the workshop to achieve overweight material transport needs.
Bidirectional drum AGV parameters
| | |
| --- | --- |
| Body models | Bidirectional drum type |
| physical dimension | L800 * W500 * H500 (mm) |
| control method | PLC / AGV motion control chip (optional) |
| Navigation mode | Magnetic Strip Guidance / Photoelectric Guidance / Laser Guidance (optional) |
| Walking direction | Forward and backward, left and right turn, bifurcation |
| Communication function | Wireless LAN (optional) |
| Drive mode | Differential drive |
| Drive power supply | DC24V, DC48V |
| Drive the lift mode | Manual lift / electric lift |
| Load capacity | 100,300,500,1000 KG (can be customized) |
| Travel speed | 30-45m / min Speed ​​(or custom) |
| Turning radius | The minimum can be up to 500mm (route laying radius) |
| Navigation accuracy | ± 10 mm |
| Way of working | 24 hours |
| Gradeability | 3-5 degrees |
| Stop Accuracy | ± 10 mm |
| Charging method | Manual charging (optional automatic charging) |
| Battery | Maintenance-free rechargeable batteries, the number of continuous discharge> 300 times |
| Safety sensing range | ≤ 3m, adjustable, emergency braking distance of less than 20mm |
| Human - computer interaction | Using touch-screen human-computer interaction, you can easily set the parameters, set the site and alarm. |
| Use of the environment | Indoor temperature: 0 ~ 40 degrees, relative humidity: 40% to 80% |
| Security | Side obstacle detection sensor + mechanical anti-collision mechanism double protection |
| Design life | > 10 years |
Two-way drum AGV car manufacturers
AGV car can be widely used in electronics, automobile, chemical, pharmaceutical, logistics and other industries, to achieve logistics automation (AGV), AGV, AGV, AGV, AGV, Application of rapid deployment, thereby saving labor costs, improve production efficiency. More information you can consult factory hotline: 0791-88133135
Previous:
Automatic lifting the AGV
next:
Trailed the AGV
you may also like / More Like