PRODUCT CATEGORIES
CONTACT US
DANBACH ROBOT JIANGXI.INC.
Phone:
0086-18801818975
Tel:
0086-0791-88133135
Fax:
0086-0791-88221576
E-mail:
info@dbhrobot.com
Address:
Nanchang High - tech Zone Innovation No. 811
Polished robot
DANBACH ROBOT
---
Introduction of Polishing Robot
Danbach production grinding robot using the most advanced cutting software and machining force control technology, as well as spindle, knife library, turntable and other configurations, can replace the manual and deburring machine tool equipment; it is mainly used for casting, Sheet metal parts, sanitary ware, computer notebooks, mobile phones and other shell grinding, deburring automated processing.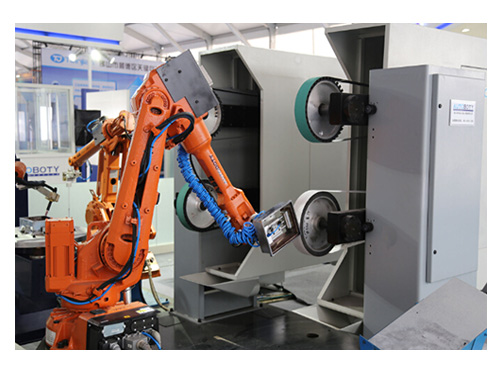 Polishing Robot Advantages
1, save money: automated production line greatly reduces the cost of using high-skilled workers; grinding a high degree of consistency, lower product failure rate.
2, high production efficiency: compared with the artificial production efficiency greatly enhanced; can be a long time continuous and stable processing.
3, product quality distinctions: a high degree of consistency of product quality.
4, to improve the working environment: closed robot work room noise and metal dust and external isolation, reduce the risk of exposure to harsh environments.
5, personal safety: the workers due to the operation of dangerous processing equipment caused by accidents reduced to zero.
Polishing and polishing robot system
Combining the grinding machine and the robot into a single robot grinding system or a complete robot grinding equipment, combined with the transmission line and the corresponding fixture technology research and development into a complete grinding process automation production line, can efficiently complete the non-standard parts of the automatic grinding operation process.
Sanding automation robot manufacturers
Ikewell domestic professional polishing polishing robot equipment suppliers, to provide you with professional non-standard pieces of grinding solutions to help you solve the problem of grinding automation, boost productivity. Learn more about grinding robot prices, performance, you can contact Hotline: 0086-0791-88133135.
Previous:none
next:
Polishing robot
you may also like / More Like