PRODUCT CATEGORIES
CONTACT US
DANBACH ROBOT JIANGXI.INC.
Phone:
+86-18602162995
Tel:
+86-0791-88133135
Fax:
+86-0791-88221576
E-mail:
info@dbhrobot.com
Address:
No.811,Chuangxin 3rd road,High-tech district,Nanchang city,Jiangxi province,China
Unmanned robotic handling storage logistics industry to prom
DANBACH ROBOT
---
Accompanied by the rapid development of electricity providers, logistics industry from behind the scenes to the stage, as the capital of various ways there is no smoke of the battlefield. In 2020, the domestic automated logistics system market size is expected to more than 100 billion yuan, the next few years the industry growth is expected to remain above 15% - Amazon 7.75 billion acquisition of KIVASYSTEM, Jingdong hit heavily self-storage, China's logistics enterprises, More need for their own, independent intellectual property rights of intelligent logistics system.
DANBACH provides intelligent storage and handling robots, built a powerful matrix matrix of robots in the warehouse. Through efficient task scheduling, scheduling algorithm optimization, high-precision two-dimensional code positioning navigation technology and a good human-computer interaction experience, scheduling multiple robots Work at the same time, realize between the robot, the robot and the person seamless connection.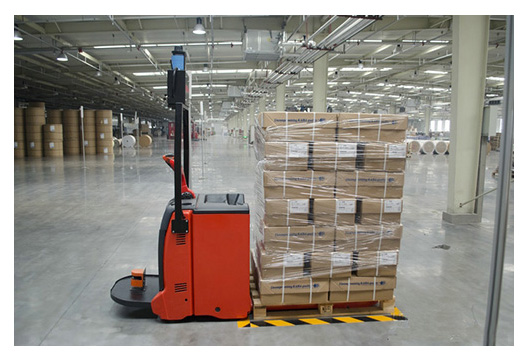 Storage robots load the cross-regional operation of the rack to achieve the efficient flow of goods between the site and greatly reduce the warehouse workers walking path, compared to the artificial warehouse, with intelligent AGV handling robot warehouse transport efficiency increased by 50% .
The development of intelligent logistics, not only to consider its efficiency depends on its input costs, efficiency, catch up with advanced, affordable for everyone, is in line with China's national conditions of intelligent logistics.
AGV's role is to reduce labor, reduce labor. In an industrial automation business, when you need to move an object, just by issuing a command, the palletizing robot takes the work piece out of the warehouse and delivers it to the AGV (automated handling robot) Handling car to the assembly line, after the identification of intelligent cameras to determine, by the industrial robot transported to another line and put away the code.
Previous:
Welding robots Common Fault Analysis and Processing
next:
What factors determine the flexibility of industrial robots?
you may also like / More Like